VIVE HEADQUARTERS
Renovation and design of the office headquarters for VIVE Development . including custom designed desks and fixtures.
OFFICE
Custom designed and manufactured desks, light fixtures from Hollis and Morris, presentation lighting by Worley's lighting.
WATER CLOSET
water closet featuring skewed hexagon tiles, a brass circular mirror, and walnut details such as the windows jams and vanity.
BOARDROOM
in addition to designing the renovation we custom designed and manufactured a marble boardroom table
Common Area
The second floor was renovated to accommodate apartment space. Shown here is the common common space and kitchen at the top of the stairs.
Kitchen
With limited space to work with we wanted to plan a kitchen with a usable layout, plenty of storage options, while maintaining a stylish minimal design.
Kitchen Details
Chevron marble back splash with floating maple shelves are the highlights of this kitchen design.
Osheen Harruthoonyan
Beautiful photography by Osheen Harruthoonyan graces the common area.
Vincent Lounge Chair
Vincent Lounge Chair - Classic
Avicenna Credenza And Khwarizmi Stool
MRS ROBINSON
This project was a collaborative effort with Murray Duncan. The directive was to create an eclectic 70's style restaurant in the spirit of the culmination of Hip Hop culture. We designed custom, etched wall panels, a geometric bar, shelving installations and banquettes. We pulled in vintage elements such as records, audio equipment, and lighting to create a warm, inviting, and creative environment.
Photo by Jesse Milns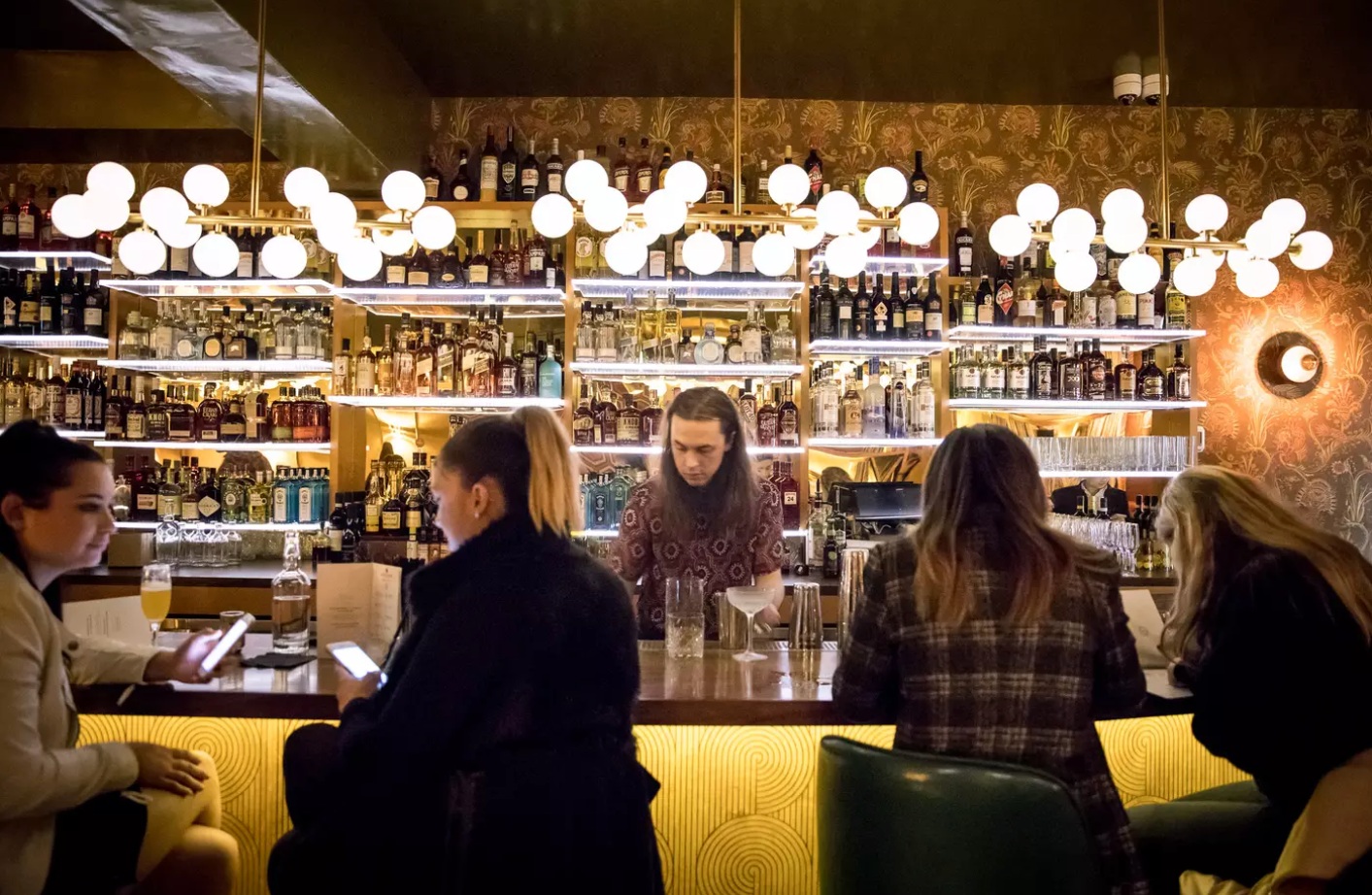 FRONT ENTRANCE MURAL
To add cohesion to the updated front room we carried the mural to be incorporated in the front entrance.
RUG CITY
Multiple variations of Kilim style rugs surround a shared salvaged wood table.
WALL MURAL
A geometric branded wall mural for the front room of Monigram Coffee.
33 DICKSON
33 Dickson was a creative space and office. A headquarters for design and community gathering place in Cambridge, Ontario.
Gold leaf sign above our flower pots
MARTELLO
The masterminds. Truly excited and humbled to be working with Gaby and Harrison on opening their second restaurant in Hamilton.
RENDERING OF ROOM 1
The first room upon entering the restaurant is modelled heavily after the aesthetic of Ricardo Bofil. Bright colours mixed with interesting geometric shapes and textures will make this a perfect room for cocktails and pizza.